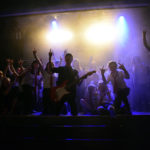 Harrow Way students brought the West End and Broadway to Andover with their latest all-school production The School of Rock. Their youngest ever cast wowed the audiences at three sell-out shows as they took on the classic Andrew Lloyd Webber musical.
Based on the iconic film, the musical follows the story of Dewey Finn, played by Year 8 Matthew Neilson, who poses as a supply teacher at a prestigious school led by headteacher Rosalie Mullins, played by Year 7 Megan Nikolic. Turning his class of straight A students into a guitar playing, drum thumping rock band, Dewey's mission is to get them to the Battle of the Bands without their parents or the head finding out. The production required performers to act, sing and play instruments on stage with an off-stage band, made up of teachers and students, providing the famous soundtrack to the show.
Show Director and Curriculum Leader for Performing Arts Euan Manson said: "Many of the main cast was drawn from Years 7 and 8 – if you're good enough at Harrow Way, you're old enough! We had around 60 students involved in every aspect of the show from lighting and sound, stage management, set construction, playing in the band to singing in the show choir and of course performing on stage. It was an ambitious production to put on but we have been rehearsing three times a week since September, clocking up over 100 hours of after-school rehearsals and preparation – our cast was more than ready!"
As is now tradition, students from Icknield School also worked on the production, attending Harrow Way's Drama Club every week for two terms in the run up to the show. "The way the Icknield and Harrow Way students bonded as a cast and as friends was one of the best parts of the whole process" commented Mr Manson.
Mr Manson continues: "We hope that by giving young, talented and enthusiastic performers the chance to take part in full scale, challenging productions we can show them just what great things can be achieved through commitment and hard work. The students worked alongside adult professionals and were treated like professionals themselves. The opportunity to play bass or guitar alongside seasoned performers does not come along that often and not one of our cast failed to rise to that challenge. Although they were exhausted by the end of the run, they all walked away with a sense of pride and a newfound confidence."
It seems this confidence continues to run high among the young Harrow Way performers with many subsequently entering Harrow Way's annual singing competition, The H Factor.