Harrow Way Students put Local MP Kit Malthouse Under the Spotlight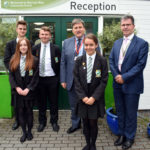 Harrow Way students put North West Hampshire's MP Kit Malthouse through his paces when he visited the school recently. The Andover based Conservative politician met students who grilled him on his work in Westminster and the role he plays closer to home in his local constituency.
Commenting on his trip to the school he said: "I was grateful that even at the height of exam season the wonderful students of Harrow Way School managed to carve out some time to show me around on my recent visit. The 'Beast from the East' put paid to my last scheduled visit and in the intervening months the students had got themselves ready to put me through my paces with some excellent questions as always. They were intrigued about my work in Parliament during these fast-moving times and keen to hear about my role in the Department for Work and Pensions. Many thanks to Mr Serridge for inviting me along and good luck to all the students with their forthcoming exam results".
With young voters (aged 18 – 25) traditionally the least likely to vote Harrow Way is very keen to promote political literacy among students. Headteacher Michael Serridge continues: "At every major political opportunity we always endeavour to engage our students in the process which is going on around them – whether that's having an in-school vote for the General Election or the EU referendum. It is important that students are politically aware, empowered to engage and debate politics so that when they are legally able to vote they do exercise their right. We see this as our duty to enable students to be great citizens."