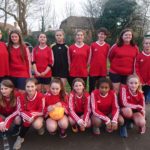 The year 7 and 8 girls played their first district cup football match this week against Henry Beaufort. Our first goal was scored in the first minute by Sky Hull, which was then followed again in the first half by Morgan Durrans scoring the second. Both goal scorers showed excellent leadership skills throughout the game coaching the not so experienced players. The team had great determination and have shown much promise for the future. It was a close game Henry Beaufort won 3-2 scoring the last goal in the second half.
Players of the match : Kiera Elliot and Julia Wojcik.
Team: Julia Wojcik, Keira Elliot, Darcey Newman, Mya Hards, Lianne Rackley, Ellie Kew, Sky Hull, Morgan Durrans, Erin Bradbury, Losana Masirewa, Eva Graham, Jessica Middlemass, Sophie Hammett, Maddie Taylor, Megan Nikolic.