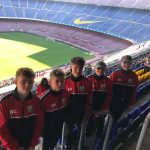 Barcelona, home to one of the world's greatest football clubs provided the perfect backdrop for Harrow Way's recent football tour. Two team of 28 players travelled to the exciting cosmopolitan city for the school's annual Barcelona Football Tour to experience a new footballing culture, play against teams where the technical ability and style is very different and to visit a beautiful seaside city, famous for its architecture and culture.
Lawrie Carter, Year 8 Leader and teacher in charge of the trip said: "This was an invaluable experience for all the boys involved who have demonstrated a real commitment to school football. Just being in Barcelona is exciting in itself but as keen footballers, there can be no better city for a tour! Competing against teams who play with a very different style was challenging for the boys but as demonstrated week in and out on the pitches back at home, the boys dug deep and won two of their games and drew the other two. We were very proud of their effort and sportsmanship."
When not training or playing matches the boys naturally enjoyed the hotel facilities and spent a lot of their time on the beach or in the pool. There were two days of excursions including a day at Portaventura theme park which was a firm favourite for all of the thrill seekers and a tour of the impressive Nou Camp, home of FC Barcelona. During their time at the stadium they saw Messi's boots and the Champions League trophies. Time was also spent seeing the well-known sights of Barcelona including Gaudi's famous Cathedral, La Sagrada Familia, the Olympic Stadium and the Montjuic Castle.
Harrow Way has a reputation for some footballing magic on the home pitches winning the Hampshire Cup and Andover and District Leagues in recent years.