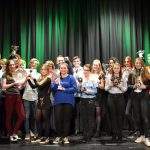 On Monday 13th November we welcomed back our outgoing Year 11 students at their KS4 Presentation Evening. Students from the class of 2017 returned to collect their GCSE certificates and find out who's won this years subject awards and presented the annual trophies. Images of the evening can be viewed here.
This year we were delighted to welcome back ex-Harrow Way student Shonagh Manson to present our Year 11 students with their GCSE Certificates. Shonagh Manson is an Assistant Director at Culture and Creative Industries for the Mayor of London.
Some of the star winners were: Noah Lynam, won the Anne King Shield for the highest academic achiever; Tia Fisher, won The Will Dyke Cup for exceptional contribution to school life and Grace Witcher won the Harrow Way Shield for outstanding personal achievement.
A full list award winners can be viewed here:
Evening Programme
Trophy and Cup Winners