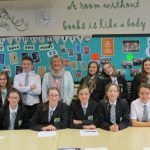 Playwright, author, TV and film director Jane Prowse has been sharing the secrets of her literary success with Harrow Way students. The author of the teen series Hattori Hacchi books met students from Year 9 and 10 to discuss her varied career which has seen her write scripts and direct a number of top TV shows and stage productions featuring some of the country's best loved actors including Ricky Tomlinson, Brenda Blethyn and Fay Ripley.
Jane's Hattori Hachi books are based on Ninjitsu, featuring a strong, female heroine seeking the truth about what happened to her mother. The Times Education Supplement described her novel as 'a winner and a thrilling read'. Against this backdrop students were delighted to get in character, dressing up as Ninjas and throw themselves into the sessions with Jane.
Sharon Burningham, Learning Resource Centre Manager said: "Jane has written a series of novels which our students are now enjoying reading having met her recently. It's great to see such strong female characters coming through to inspire the next generation of readers. Author visits are always very popular and are a great way to inspire students to further immerse themselves in literature and for some to consider how they too could take their passion for reading and creativity to the next level. Who knows we could have the next Times Best Seller author in our midst!"
While at Harrow Way, Jane also ran a creative writing workshop with small groups of Year 8 students. Jane was very impressed with the maturity of the themes explored and by the high level of ability the students demonstrated as they planned and wrote some creative short stories.