#InspireAndover Skate Jam – Saturday 22nd April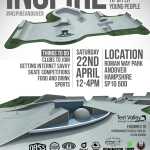 An event is being held on Saturday 22nd April 12-4pm at Roman Way Park for young people. The aim of the event is for young people to be inspired by what Andover has to offer.
See the poster for more details, alternatively contact sfordham@testvalley.gov.uk.