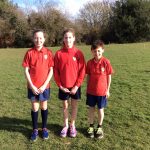 On Tuesday 7th March, three Harrow Way students represented the Andover District in the County Cross Country Championships on an unexpectedly sunny afternoon in Basingstoke.
We had one athlete qualify in each event of the Under 13 Girls, Under 13 Boys and Under 14 Girls – Hannah Salter, Bertie Jones and Victoria Butler.
With fields of between 100 and 150 competitors, in each event, from ten districts in the county, the top 15 finishers were to be awarded invitations to represent the county at the next round event.
The course was exceptionally muddy, with a number of competitors falling over or losing shoes along the course. Hannah came in 104th place over a 2.2km course, Bertie finished 74th over a 2.6km course, and Victoria finished an excellent 26th over a 2.6km course. Huge congratulations to all three of you!