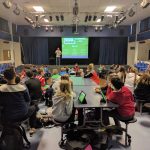 Students and teachers at Harrow Way Community School celebrated the NSPCC's Number Day, a nationwide maths fundraising event, recently raising over £700 for the charity. 'Dress up for Digits' was a special non-uniform day with students and teachers making a donation to wear an item of clothing with a number on it.
The numbers theme didn't end there. Throughout the day all lessons were inspired by maths with teachers taking every opportunity to discuss and demonstrate how maths can be applied in all subjects. Whether in English, French or Spanish numbers were the language of the day.
Kahoots, the game-based learning programme used by millions around the world brought out Year 7s competitive natures. Headteacher, Michael Serridge even commented that he had never seen so many young people in one place getting so excited about maths! The online multiple choice quiz covered all aspects of the Year 7 maths curriculum with students answering the questions using their mobile phones or iPads.
By taking part in Number Day 2017, Harrow Way helped the NSPCC raise vital funds to protect children and prevent abuse through its projects and services, including Childline – the UK's free, confidential 24-hour helpline and online service for children and young people – and Speak Out. Stay Safe, which sees trained volunteers visiting every primary school in every community across the UK, to talk to children about abuse and where to get help if they need it.
Christina Marsh, Assistant Curriculum Leader for Maths at Harrow Way said: "Number Day is a brilliant way to raise money for the NSPCC as it allows us to support a worthwhile cause while having fun with maths to support our students' education. We are delighted with the day."