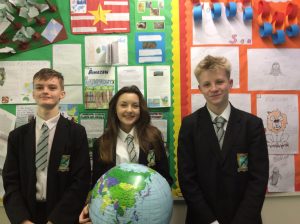 Harrow Way Year 10 students have pitted their geographical wits against schools across the county in the annual Hampshire Worldwise Geography Quiz. Hosted by Toynbee School in Eastleigh, the team of three Geography students came a very close second in a field of 11 regional schools.
Kelly Campbell, Curriculum Leader for Geography explains the value to the students of entering the competition: "Many of the questions, skills and knowledge were tailored towards the new Geography GCSE curriculum and exam so the competition was a useful opportunity for our students to put their geographical talents to the test. They did really well – we were all delighted with their performance and the end result and will be applying for the national round later in the year".
The students were quizzed on all manner of geography facts and statistics from locational knowledge, geographical skills and a local Hampshire round. The students performed particularly well with their locational knowledge and seemed to know many random facts regarding the world at large which proved helpful with the competition so tight.
For a number of years Harrow Way has held the coveted Secondary Geography Quality Mark (SGQM) from the Geographical Association. This award recognises student attainment, progress and achievement and sets expectations about the quality of teaching. In short, a quality mark for excellence in teaching and learning in Geography.
Kelly Campbell continues: "As SGQM holders we are keen to raise the profile of Geography and the work we're doing at Harrow Way within the wider education community of Hampshire. The Worldwise Quiz is an ideal opportunity to demonstrate the outstanding quality of Geography teaching and learning we have here at the school and our ongoing commitment to raise standards beyond our school gates".