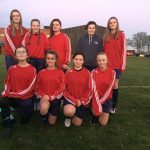 The Year 9 girls football team remain unbeaten ever in district competitions, following a strongly contested tournament held at Wellington Academy on Wednesday 18th January.
The girls started nervously against their first opponents, John Hanson. A number of good saves by Harriet McRae in goal kept them at bay, but the forward line were unable to convert any of their chances.
The second game against Wellington resulted in a 1-0 victory. Slick passing by the midfield team of Lauren Clark, Shannon Durrans and Lucy Ladd provided opportunities for Abi Clark and Megan Harrison, but it was left to the last minute of the game for Abi to fire home. Excellent strength in defence by Elly Hethershaw and Amelia Kalwatjys prevented any clear chances from the opposition.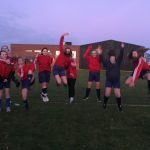 The final game was against Rookwood. The chances came freely, but their keeper made some excellent saves, preventing a goal early on. Leigh Stanbrook worked tirelessly in midfield, covering a lot of ground in supportive play. Finally the score was broken by an excellent finish by Megan, who quickly fired home a second. Abi slotted home the third, and despite a goal by Rookwood late on, Harrow Way secured an excellent win. With John Hanson failing to beat Wellington, Harrow Way were crowned champions.