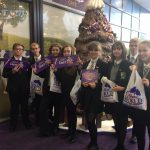 Harrow Way Food Technology students were given a unique insight into the nation's favourite chocolate brand* when 47 Year 9s visited Cadbury World recently. Here they learned all about the origins of cocoa beans, the chocolate production process and Cadbury's history of pioneering advertising.
Emma Law, Design Technology Teacher explains the value and purpose of the visit: "It's very easy, when you see products neatly displayed in shops to be ignorant to their provenance. As Food Technology students it is important to understand the origins of food, its journey and the process it goes through from farming through to being beautifully packaged, lined up on a shelf".
For those who have not been, Cadbury World is a self-guided exhibition taking visitors through a variety of zones which showcase the history of the company and chocolate making. Students learned about the origins of the cocoa bean and its journey to Europe in the 16th century and the story of the Cadbury brothers, pioneers in industrial relations and employee welfare, setting standards which other enlightened employers subsequently followed. Students also got to watch the professional chocolatiers working their magic, revealing the ingredients as they made chocolate.
While at Cadbury World the students had a specific talk from a Food Technology expert about the many issues affecting the manufacture of cocoa beans and other products used in the production of chocolate. They explored the many aspects of the manufacture process and looked at the all-important marketing which Cadbury is renowned for
No trip to Cadbury World would be complete without sampling a bar or two and the students were each given four complementary bars along with a molten pot of chocolate which they could then add ingredients of their choice to. And if that wasn't enough chocolate for one day, a trip to the 'World's Biggest Cadbury Shop' sweetly concluded proceedings.