Year 8 Football Result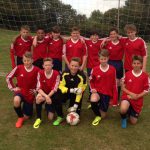 On Thursday 1st December, Harrow Way Year 8 boys football team travelled to John Hanson. This was a must win game for both sides but early on John Hanson were strong up front scoring from a volley early on. This was followed closely by another goal from John Hanson after a great one-two.
Harrow Way were two nil down at half time but determined to get back into the match. The second half was a great battle with Harrow Way goalkeeper, Finn Belbin, making some excellent saves. Good pressure from Harrow Way forced John Hanson to make a mistake and give away a corner. This resulted in a goal from Mason Ardron on the goal line.
Despite fighting hard, Harrow Way were unable to equalise, so the final result ended up 2-1 to John Hanson.
Written by Finn Belbin 8JG