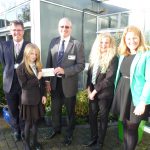 Harrow Way Community School Food Technology students will be growing their own fresh produce, herbs and spices following a generous donation from The Worshipful Company of Glass Sellers of London. The funding of £981.00 will finance the purchase of nine glass garden cloches (low protective structures which act like greenhouses) to be planted up and maintained throughout the year by the Food Technology students and teaching team.
Andy Brockett, Liveryman and Trustee of The Worshipful Company of Glass Sellers of London visited the school this week to present the donation commenting: "Glass is a fundamental part of everyday life but we invariably take it for granted. We are therefore very keen to support projects which stimulate interest in glass in all its aspects as well as the various careers associated with the industry. We look forward to seeing how the students benefit from the glass cloches and how the school build their use into the curriculum".
Harrow Way's Food Technology department is planning to grow seasonal fruit, vegetables herbs and spices which students will use in their lessons. Teacher Emma Law was keen to have glass cloches over alternatives to demonstrate to students the superiority of glass, its effectiveness as an insulator, the minimal maintenance required and its proven longevity for outdoor life. Students will also be able to explore the effect the environment and weather has on produce and the role the glass cloches will play in this.
Commenting on the donation she said: "It's invaluable to the students to use produce they've grown and to know what they are eating and where it has come from. Thanks to The Worshipful Company of Glass Sellers, our students will now be able to plant, grow, cook and eat food here at Harrow Way".