KS4 Presentation Evening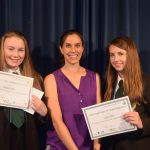 Congratulations to all the students from Year 9 & 10 who were awarded prizes at Monday Evening's Presentation Evening. Prizes were presented for Effort & Attitude and Progress in each subject area and Head of Year Awards were presented for Contribution, Personal Achievement and Attendance.
The Student Leadership Team was also introduced, as well as senior prefects who each received a certificate. Pictures can be viewed here.