Harrow Way H-Factor – House Singing Competition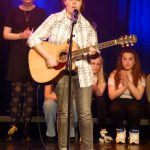 The H Factor was an outstanding event displaying the wonderful talent of our musical students. The competition was close and judges/heads of house Miss Beynon-Thomas, Mr. Manson, and Miss Pittman cannot wait to see what our fantastic musicians can do next year.
Congratulations to all who took part but unfortunately, we could only award three winners and those were: 3rd place Meggie Hurt (Buzzard); 2nd place Faith Gove (Buzzard); 1st place Georgia Day (Buzzard). Special congratulations to Josh Douch and Nathan Hartfield (Buzzards) for winning Most Entertaining Act.
Points: Hawks – 60, Kestrels – 60, Buzzards – 310