Sponsored Obstacle Course with Icknield School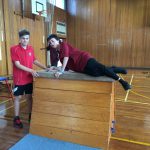 This week Year 7 students, in lessons and in their own time, have been completing a sponsored obstacle course along with students from Icknield School. In ten minutes students from both schools had to see how many times they could get around the course.
Year 7 students will be taking part in the race as part of the 'Harrow Way Guarantee' to raise funds for Icknield School. Congratulations to Alex & Peter Gregory and Elizabeth Amos for raising over £100 each. You can view some pictures here.