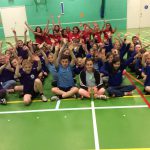 Fourteen of Harrow Way's finest Sports Leaders gave up many hours of their own time to practise and then lead the annual Year 3/4 Tri Golf Tournament. Seven stations were expertly set up; all leaders then ensured they knew how to lead, how to encourage and how to accurately score their station.
All six of our young teams from Portway Junior, Endeavour and Knights Enham Junior arrived early, keen to start practising their putting and chipping before the competition started. Four putting games and three chipping games followed, with the noisiest station being led by Jessica and Amelia. Their 'Skill for Life' was 'Encouragement' and they ensured all members of the teams encouraged each other fantastically… and VERY noisily!
Following an hour of amazing golf by all players, tense moments were spent while score cards were added. Then the scores were in. Year 7 leaders led the presentation, announcing all results and presenting all children with their certificates and medals. Since we are the only Year 3/4 Tri Golf competition in Test Valley, all children should feel very proud to be the best golfers in the area; congratulations to all! Runners up were Endeavour and the winners were a very proud (and emotional!) Knights Enham Junior. They will go forward to represent us at the Level 3 games at Aldershot on 30th June.
Mrs Salmon would like to say another HUGE thank you to the brilliant leaders: "You were amazing and ensured all the Year 3/4 children had a wonderful competition. I hope your ears were not ringing for too long and your voices survived!"
Year 7: Alicia Lund, Erica Sheridan, Abi Heaton, Jessica Munday, Amelia Bierut, Kitty Gray, Jada Jones
Year 8: Liberty Southgate, Agata Ruminska, Connor Burrows and Tamara Clackson
Year 9: Josh Bishop
Year 10: Amy Elkins