Year 2 Tri Golf Triumphant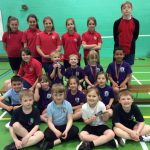 In its eighth year, the Year 2 Tri Golf competition is still going strong! Fewer teams may have entered this year but the quality of the golf was the best yet! Excellent putting and chipping from the Knights Enham Infant teams and Roman Way was evident during all five games. Although no one managed a 'hole in one' (not even the teachers!), there were some very close shots as a result of fantastic chipping. Winners of the overall competition were Knights Enham Chippers, with Knights Enham Putters and Roman Way close behind.
Seven members of Harrow Way's Leadership Academy were on hand to expertly lead the young teams, encourage them as well as keep score.