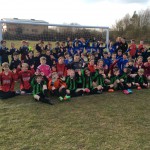 In association with Sparsholt College and Lions in the Community, Harrow Way Community School recently played host to about 240 young footballers, 26 teams, 18 schools and about 800 minutes of football! Cathy Devereux (Lions in the Community) and Rhonda Salmon (Harrow Way Community School) ran the Rural Schools' Football Tournament whilst for the seventh year, Sparsholt College students planned, organized and ran the Andover Town Schools' Tournament with a high level of skill and efficiency and only minimal support. Throughout two days of competition, the standard of football and respect shown, to fellow players and officials, was excellent and a credit to the young people, staff and schools involved.

On Wednesday 16th March, the 10 rural teams were divided into two pools, with everyone in each pool playing each other. Following a welcome which promoted fair play and only positive encouragement towards players, twenty matches were played sportingly but with a high level of skill and team work shining through. Year 10 Harrow Way referees (Ross Belbin, Jack Ardron, Sam Clash and Owen Mussell) managed the matches expertly and professionally, with four Year 7 pitch marshalls supporting them brilliantly (Joshua Banks-Williams, Joshua Ebanks, Neo Black and Dylan Willard). However, only two teams in each pool could reach the semi-finals. Pool A was exceptionally tight. With four teams tied on points goal difference became crucial; this resulted in St Mary Bourne and Clatford being the top two to go forward to the semi-finals. In Pool B, Shipton Bellinger and Amport became the semi-finalists. St Mary Bourne and Clatford won their respective semi-finals and a close final followed with the very skilful St Mary Bourne playing well as a team to pick up the gold medals for the second year running. Silver medals were awarded to runners up Clatford with Amport taking third place. Appleshaw St Peter's, Abbotts Ann, Amport, Kimpton, Smannell and Enham, Hatherden and Barton Stacey also took part in what was one of the closest rural competitions for many years! The Fair Play Award was awarded to Hatherden who encouraged each other brilliantly and sportingly throughout, whatever the score.
The following day, Thursday 17th March, dawned warm and sunny, perfect for the annual Town Schools' Tournament! Sparsholt students arrived early to set up the pitches and ensure all was ready for the sixteen teams. Just after midday, they were able to welcome one team from each of Andover Primary, St John's RC Primary, Knights Enham and Roman Way, two teams from Vigo, three teams from each of Anton and Portway and four teams from Balksbury.
An excellent four hours of skilful football and teamwork followed a welcome by Sparsholt students, Bailey and Osman. Teams were divided into four pools, with first and second placed teams going through to the Cup competition, and 3rd and 4th placed teams entering the Shield competition. Harrow Way students also supported the Sparsholt students fantastically (Daniel Bullock, Ronan Houghton, George Dickens, Rhys Sullivan and Rhys Jones). The knock-out stages saw some extremely close games, with many exciting golden goals but luckily no penalties!
In the Cup, Balksbury A, a very strong team throughout the tournament, earned themselves the 2016 title and picked up the trophy and medals; runners-up were Portway A with semi-finalists Knights Enham and Roman Way achieving joint 3rd place in the Cup competition. The Shield final was an all Balksbury match, with Balksbury B beating Balksbury C. Anton C and Vigo A were the other semi-finalists. Sparsholt students chose Vigo B as their Fair Play winners.
Rhonda Salmon, School Sport Coordinator at Harrow Way, said: 'Enormous thanks must go to all the players, parents and staff of the schools without whom we would not have had such an excellent two days of football played in an exceptionally respectful manner. I would also like to express many thanks to Sparsholt College students, their lecturer Sam Vokes, Cathy Devereux and Harrow Way Community School for its fantastic referees and leaders.'
Pictures can be viewed here.