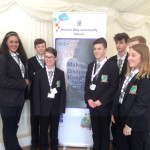 After winning at the Regional Finals in Brighton, Harrow Way Year 10 students are in London competing in the Final of the Coca-Cola Enterprise – The Real Business Challenge. Mrs Gregson, Curriculum Leader for Business Studies, wrote a brief account of the first day:
The students started at the House of Commons, were they spent two hours presenting their campaign to people from industry and Members of Parliment. They did really well and it was great to see all of them gaining in confidence speaking to adults. The next stage is today where we think they have to refine their idea still further and work on their presentation.
It was then back to the hotel after a tour of Parliament and to Planet Hollywood for dinner. We then went to the West End a watched The Lion King which was enjoyed by all. All very ready for bed when we got back, only to be woken by a fire alarm and evacuation of the building at about 1 am! Fortunately not too long but quite cold in pyjamas by the Thames at that time of night.
Wednesday it's breakfast at 7.30 and challenge begins at 8.45!