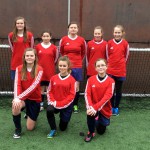 On Wednesday 9th March, eight Year 8 girls travelled to Southampton to compete in the Premier League U13 Girls Regional Tournament. In the rain which persisted all day, the girls played superbly. In the group stages Harrow Way played 5 matches, and needed to win at least three of them to progress to the last 16.
They did just that, beating Quilley 1-0, Ryde 7-0 and St George's 6-0. They narrowly lost to Westgate 3-2 and lost to Noadswood 5-1.
In the last 16, the girls played a tough match against Weydon, sadly losing 3-1 and ending their hopes of success. A great experience for all, the team should be proud of their efforts and we all look forward to their next opportunity to compete as a team.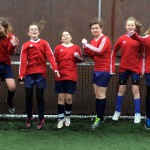 Team and goals scored:
Amelia Kalwajtys – 4 goals
Abi Clark – 3 goals
Lauren Clark – 3 goals
Megan Harrison – 3 goals
Lucy Ladd – 2 goals
Elyn Hethershaw – 2 goals
Shannon Durrans – 1 goal
Chloe Wilfort
Coach's player of the tournament was Megan Harrison.
Megan was great at tracking back and covering in defence and her work rate in midfield was impressive. She was able to get the ball and play it into the striker. She didn't give up and she just kept on working!
Miss Hayward