On Monday 8th of February at a wintery Test Valley School, Harrow Way year 7's became the champions of the first of the 2016's district schools rugby tournaments.
The boys arrived full of ambition and were soon into the action playing Test Valley A's. The game was contested well but ended in a stalemate with Harrow Way having the best of the chances. Fixtures came as thick and fast and Harrow Way were soon in their stride with victories over Wellington and local rivals John Hanson displaying some quick passing and great running lines. The boys then emphatically beat Test Valley B's to clinch the tournament victory by points difference over Test Valley A. The conditions provided an epic backdrop to an exciting tournament win and the future looks bright for our young rugby stars!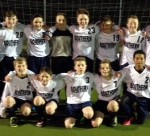 Following on from the rugby successes, the Year 7 Football team produced an excellent performance to win through to the semi finals of the Winchester and Hampshire Cup. The tie against Kings School, Winchester was a thriller from the start with great end to end football. The lead changed hands many times with the score ending 4-4 after full time. Aston Mussell scored a fantastic 18 yard goal to draw the sides 3v3 and David Chubinidze looked ever dangerous.
The score remained level within extra time and penalties were needed to settle the tie. Macca Crook saved the first Kings penalty for Harrow Way. The team then kept their nerve with Dylan Willard scoring the deciding penalty to send us through to the Semi Finals. Man of the match was Tom Coles for an excellent display on the right wing.