Performing Arts Christmas Showcase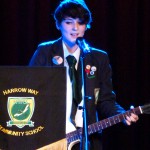 At the end of the Autumn term, the Performing Arts department laid on two festive shows in the last week. The first was a Christmas Variety performance from the Year 7, 8 & 9 Drama Club, who meet Thursdays after school. This performance included songs, dances and sketches which were improvised entirely by the students. The performance also included students from Icknield School who also attend our drama club.
On the 16th December was the Music Department Christmas Showcase. The event displayed the talents from the school orchestra, the guitar club and solo performances from Isobel Laughton and Meggie Hurt. The BTEC Music students also performed in bands and duets. Pictures can be viewed here.