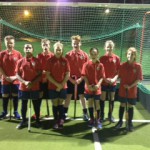 On Thursday the 26th November, Harrow Way took part in the Town Mixed​ Hockey Triangular at John Hanson school. With no prior experience as a team, Harrow Way took eight budding sports men and women from Year 7 to the fixture. Of those, only one player had ever played a hockey match before. With this in mind, we made a bright start against a strong John Hanson side, staying low in the tackle and passing the ball with confidence. At the end of a close game, John Hanson broke the deadlock and with a single goal and held firm for a 1-0 win.
With a match under their belt Harrow Way felt they could score some goals against a very strong Rookwood side. With the score at 0-0 after half time Rookwood looked to pressure the Harrow Way "D" early in the second. That pressure paid off as Rookwood went 1-0 up. Valiantly Harrow Way fought back and scored a good team goal, we looked sure to score another before a break away allowed Rookwood to once again take the lead. With time running out Harrow Way upped their game and once more found the goal before the final whistle for a well deserved 2-2 draw. The team all played and represented the school fantastically.
Team: Mason Ardron, David Chubinidze, Libby West, Neo Black, Donna Doig, Erica Sheridan, Alicia Lund and Jacob Simmonds.