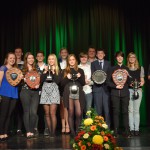 Harrow Way welcomed back its out going Year 11 students to their Presentation Evening on Monday 16th November. We invited back guest speaker Jim Roberson, a motivational speaker and behaviour coach, and ex-student Jenna Barrett, a British Gymnastics Champion, to present the awards and certificates.
Students were presented with their GCSE certificates, before the subject awards were announced. Subject awards are chosen by the Curriculum Leaders for students that have shone in their subject areas by putting in maximum effort and achieving beyond their personal goals.
The Annual Trophy Awards were presented by Headteacher Mr Serridge. This year there was a couple of new awards, including The Rob Hudson Cup for outstanding contribution to PE and school sport, and The Partner West Africa Award donated by Sandy Craig, for Rights Respecting commitment. A list of achievements can be viewed here.
A gallery of pictures can be viewed here.