KS4 Hockey Tournament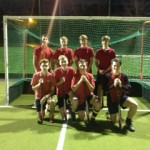 On Thursday 19th November, Harrow Way took 2nd place in the Andover District KS4 hockey tournament at John Hanson School. The boys went into the fixture with little experience but played positive hockey throughout. They managed themselves well on the pitch and ran out comfortable 3-0 winners in their first match versus Rookwood.
With confidence high, the team turned on the style against Winton, with play on the right flank providing a bucket load of chances. Harrow Way cruised to an early 2-0 lead and finished up 4-0 winners. In the deciding fixture versus John Hanson the boys conceded their first goals early on. However, after a rallying five minutes spell Harrow Way found themselves level at 2-2 before taking the lead midway through the first half. John Hanson struck back late to make it 3-3 at half time and momentum seemed to die for the away side. The second half played a similar story, John Hanson pushed ahead before Harrow Way levelled at 4-4. In the final moments John Hanson's experience on AstroTurf prevailed and they stole the winner and 1st place with moments to spare.