Year 11 Hockey Results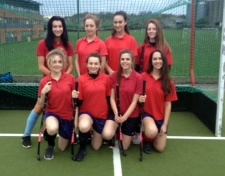 On Thursday 12th November, HWCS took part in the KS4 hockey triangular. The competing teams were HWCS, Rookwood and the experienced John Hanson side on home turf. Harrow Way took an inexperienced but enthusiastic side to the tournament with hopes of learning a few new things and coming away with a valuable experience. What played out were two exciting matches for our girls in which we picked up a win and loss. In the first match against John Hanson, Harrow Way took an unexpected lead through some good pressure and then held on for two all at half time. After the break John Hanson came out focused and flooded the Harrow Way "D" with players eventually running out 5-3 winners.
The Harrow Way spirit remained unbroken and the girls picked up their sticks to go again against Rookwood. In their second match the girls played a much more mature game and spent the majority of the match sat in Rookwood territory, being denied by the post twice and some good defending on more than one occasion. The final result was a well deserved 2-1 win for HWCS.