A total of twenty teams entered the annual Town Schools' Basketball Tournament – the largest number ever!
Ten girls' teams and ten boys' teams from Portway, Anton, Knights Enham, Roman Way, Endeavour, St Johns and Vigo arrived excited and eager to take part in this noisy, fast and fun competition! All the matches were played to a high level, with excellent sportsmanship throughout.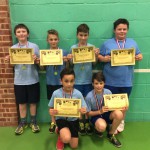 Following the pool matches, the two finals were played in the sports hall, in front of a huge crowd of teachers, parents and players. Portway A and Endeavour met in the final of the boys' competition, while the unbeaten Anton A and St Johns met in the girls' final. Both were very close matches but congratulations go to Portway A and Anton A on receiving the 2015 winners' medals.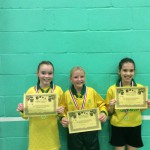 Harrow Way is also extremely proud of its Young Leaders and officials. Ella Taylor was an outstanding referee for the girls whilst Ella Shadwell kept a close eye on scores and time.
Matt Wilkins and Connor Burrows kept the event running smoothly whilst Agata Ruminska, Libby West, Emily Cook, Jada Jones, Martha Cooper, Kitty Gray, Alicia Lund, Isabella Gimitrova-Smith and Jessica Munday looked after the players from the teams. Many are new to Leadership Academy and are to be congratulated on their excellent first experience of leadership at Harrow Way.