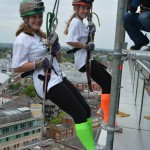 Harrow Way Year 7 student Chloe Wilfort joined 105 thrill seeking fundraisers to abseil down Reading's tallest building The Blade. The distinctive landmark, which is visible from many places across the town, is 86 metres (282 feet) high and has 14 floors. Alongside best friend Sydney Reidy, who inspired Chloe to take on the challenge, the girls abseiled from the 13th floor, collectively raising nearly £1,000 for Naomi House and Jacks Place.
Commenting on her achievement Chloe said: "On the day I felt excited to do the abseil because I've never challenged myself to do something like this before. I was really pleased for Naomi House when my sponsorship reached almost £400 (excluding gift aid) as I exceeded the minimum amount they request you raise which is £100."
Although Chloe wasn't deterred by the 282 foot height, she has never previously tackled such a challenge. Training opportunities were minimal but fortunately through the Climbing Club at Harrow Way, Chloe is very familiar with climbing equipment, harnesses and ropes which made her feel more at ease.
On the day, with black clouds looming overhead, and made to wait an hour the girls only took 5 minutes to make the descent. Chloe's next fundraising challenge for Naomi House and Jacks Place is the Rainbow Run in September. Further information can be found here.