New Intake September 2018
New Intake Information
The time has come to welcome your child to Harrow Way and to give you a little more information about forthcoming arrangements to ensure a successful transition. With students coming from many different schools this year, we are busy planning our visits to the main feeders and looking at options for easing the transition for students.

Year Leader –

Mrs V Ford
Transition Manager –

Miss E Escritt
---
Summer Term Arrangements – July 2018
Induction Day / Evening – Tuesday 3rd July
Induction Day Information
Release Instruction Form
Students Transition Booklet
6 to 7 Maths Summer Holiday Booklet
Induction Evening for Parents
Parents are invited to attend a Parents' Evening on Tuesday 3rd July 2018 from 6.00pm in order to obtain vital information, the presentations from the evening will be available to view below after the evening. We will also collect in the completed Data Booklet.
Headteacher's Presentation
Tutor Presentation
Welcome Booklet
An electronic copy of the welcome booklet, containing a wealth of information for students who will be new to the school in September 2018 is available to download here.
---
Start of Autumn Term – September 2018
Tuesday 4th September 8.45 am – Year 7 Students only with Year 11 Prefects
Wednesday 5th September 8.45 am – Year 7 Students only with Year 11 Prefects
---
Video Introduction – Year Leader
Video Introduction – Student Welcome
---
Other Information
Learning Resource Centre – Great books to read before Secondary School.
Uniform
Sample Uniform Order Sheet
All uniform for September Year 7 Intake is available from Stitch-a-Logo
Custom shopping dates for Harrow Way are:
Saturday 14th July and Saturday 21st July, from 9:00 am to 12:00 noon on both dates.
Year 7 Projects
Warhorse – Year 6/7 Literacy Transition Project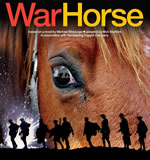 Harrow Way – Warhorse
Every year 6 student joining Harrow Way has received a copy of 'Warhorse' by Michael Morpurgo. This was handed out on 'induction day' and all have been asked to read the novel before they arrive at the school in September. All staff have also received a copy of the book. The aim is for all students to have read the book and promote literacy across the curriculum. Work will be carried out in all subject areas in the Autumn term linked to the book, as detailed above
Harrow Way Community School Guarantee
This is a new idea that we introduced to current Year 7 students in October 2016, straight after half term. We are keen to develop our students as rounded people and the Guarantee will support their social, moral, cultural and spiritual growth.
Each student will have their own blog in which they will be able to log evidence on completion of each activity from a list of over 30. In addition to text students will be able to import video clips and photos. The school will undertake to provide opportunities for most of them but some independence and parental support will also be required. As part of the charitable effort, the school will be working with both Icknield School and MENCAP to raise our students' awareness of people less fortunate than themselves.
Towards the end of Year 8, so 18 months after our launch, the relevant Pastoral staff will meet to discuss each individual student. Taking into account the experiences they have undertaken, their attendance, their behaviour at school and their effort a decision will be made as to whether he/she graduates at Pass, Merit or Distinction level. A ceremony will be held at the school to present these awards to which parents will be invited. Please note that it will not be necessary for students to complete EVERY activity in order to graduate.