Dance Production – Narnia 2018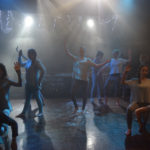 Over 90 students from KS4 Dance took part in this year's Dance Production of Narnia. Based on the story by C. S. Lewis, 'The Lion, The Witch and The Wardrobe', the cast performed four shows, including a matinée to Portway Year 5 students. Some images of the production can be viewed here.
Harrow Way Dance students took their full-house audience on a captivating journey into the fantasy world of 'Narnia' at their annual BTEC Dance Show. Each evening was a complete sell out-out with the audience wowed by the cast of Year 9, 10 and 11 dancers as they brought the C.S. Lewis' thrilling story of The Lion, The Witch and The Wardrobe to life.
Through a beautiful performance of contemporary dance the cast of 95 dancers told the story of four British children evacuated to the countryside during the Blitz. Year 11 students took on the demanding role of the lead characters Peter, Susan, Edmund and Lucy who find a wardrobe that leads to the fantasy world of Narnia. There they meet the friendly half human, half goat Mr Tumnus and the Lion Aslan as they battle against the force of the White Witch.
Commenting on the performance, which many have described as the school's best ever dance show, Lyndsey Walker, Harrow Way's Curriculum Leader for Dance said: "There were so many highlights – from the scene with the Year 10s as the evacuation children, which was an uplifting start to the show, the duet between Mr Tumnus and Lucy, depicting their initial curiosity about each other to friendship and the scene where the Beaver family invite the children to dinner. Through story telling movements, facial expressions and dramatic lifts the students did an incredible job, genuinely impressing everyone who saw the show".
The audience also enjoyed seeing Year 9 students as the Witch's frozen statues, commenting on a number of dramatic and intimidating scenes where the Witch kills the Lion, Aslan and the huge battle with 40 Year 11 dancers all on stage battling against each other.